OMG…BIG words and negative words for a working person!  Yes I know…as a working mum myself grapevine I can handle but RETRENCHMENT, it means there goes income and food on the table.  Why did I pick this topic?  In the past few months, I am caught in severe grapevine and yeah its about retrenchment.
 I was walked into the office 2 months back around 7:30am in the morning.  I greeted my colleague and he looked awkward, a cheerful colleague of mine just sat sinking in his chair and then looked very sad.  I walked up to him and asked why.  He announced to me that both he and I will be retrenched.  So I asked where did you hear this from?  He said this was through Whatsapp and it was from the President Office that they are restructuring.  Additionally, our CEO had offended one of the President's Personal Assistant (PA) therefore those hired under him will be removed….politics sigh.
Next grapevine, 3 weeks back I bumped into Treasury Director and he spoke to me, "You are a smart gal…you should start looking for a job.  You know what I mean"  Try being a bimbo, I asked am I on the list?  He said yes and he advised me to start my job hunting process.  How did I feel?  Devastated, disappointed and felt unappreciated.  So tidy up my resume and start to distribute to the job agencies.
At the same time, I was given a lot of "Special Task Force" assignments (shitty projects where my colleagues messed up) and on top of it additional jobs.  A lot of people were telling me to forget these assignments and concentrate on job hunting.  It made me think for a while with the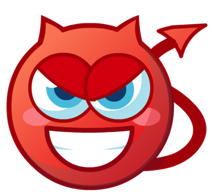 and  
 on my shoulders, bad joke….back to reality.  Why am I assigned with these when I am on the retrenchment list?
Thinking positively, my CEO is trying to save me from being retrenched by saving problematic projects and at the same time making me valuable to show case to our President, making them aware of my talent.  On the negative side, they want to ask me to leave on my own giving no time for my family, working every weekend with problematic employees.
Feeling down I always look for motivation quotes and this caught my attention.  Since these assignments were passed to me, despite multiple grapevines that I will be retrenched, instead of mourning over the grapevine, decided just to accept the responsibility during this depressing period and hope my talents and contribution will turn away these grapevines and will change the company aspect of retaining talented employees and not retrench from political reasons.
Am I angry? Yes I am but as long as I have not receive the retrenchment letter I should just accept the responsibility to take up new assignments and ensure that shitty projects are back on track.  Challenging?  Yes as I worked every weekend for almost 3 months and I manage my time between work and my family.  I do frustrate at times but at least the satisfaction of helping the company grow with the success of the projects, retrenchment if I am hit with the letter, will be a lesson learned.